Mini 3 x Snack Pot Set
Regular price

Sale price

£16.00

Unit price

per
3 Mintie Mini Stainless Steel Snack Pots

Features
Smart and easy to use 304 food-grade stainless steel snack pots
A great size for snacks on the go, weaning pots or dips and sauces
BPA-free, leakproof silicone lids in three berry colours
Great additions to your Mintie Duo Lunchbox for carrying extra sides or snacks
Toxin, taint, BPA and Phthalate FREE 
The pots are 100ml capacity (to the brim)
Details
Mintie Mini's are highly versatile stainless steel snack pots with a 100ml capacity.
These are perfect for all your snacks on the go, as weaning dishes or as toddler pots. Mintie Mini's are leakproof making them ideal for hummus, applesauce or yogurt. 
Mintie Minis are freezer safe - perfect for meal planning and batch cooking little dishes and snacks. The stainless steel pot (not the lid) can be heated in the oven for re-heating meals or baking. Making them super convenient - taking them from the freezer to oven to fridge to your lunchbox.
Mintie Mini's can be placed in the freezer and washed in the dishwasher with no degradation to the material making it the smart, safe and durable choice.
These clever pots work well for perfectly proportioned snacks and the colour coded lids are helpful when packing multiple items or when sharing between household members to remember whose is who.
We use eco conscious packaging - all Mintie products arrive in a 100% recyclable cardboard carton, wrapped in recyclable paper for protection. No plastic packaging used.
The lids and pots are 100% recyclable should the need arise, but if looked after this item will last for many years to come, making them a superb 'buy me once' item. 
Mintie Mini's are good for you and good for your environment, making them a super smart snacking choice.
What's in the box? 
Each set comes with three  BPA-free silicone lids either in three different colours (blueberry, raspberry and bright green); or three pots with same colour lids (bright green).
Care
Mintie lunchboxes, pots and bottles come with a 10 year guarantee. If you look after your pots, they will last you for many, many years to come. If the day comes you no longer need Mintie it can be fully recycled. Dishwasher and freezer safe. The pots are metal so do not put them in the microwave.
Specification
The pots are 100ml in capacity (if you fill them right to the top)
They measure approximately 4cm high and 7cm across with the lids on and 6.5cm with the lid off
Share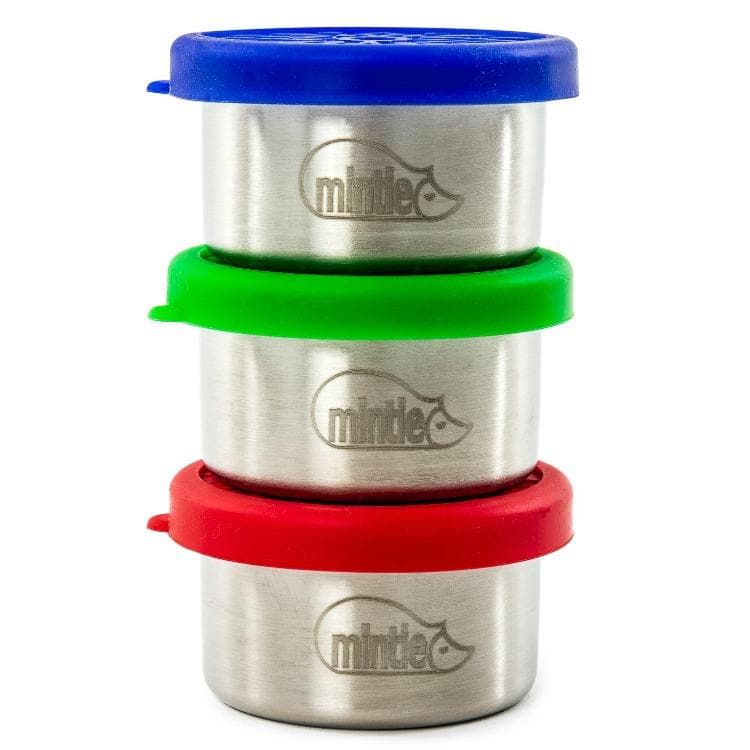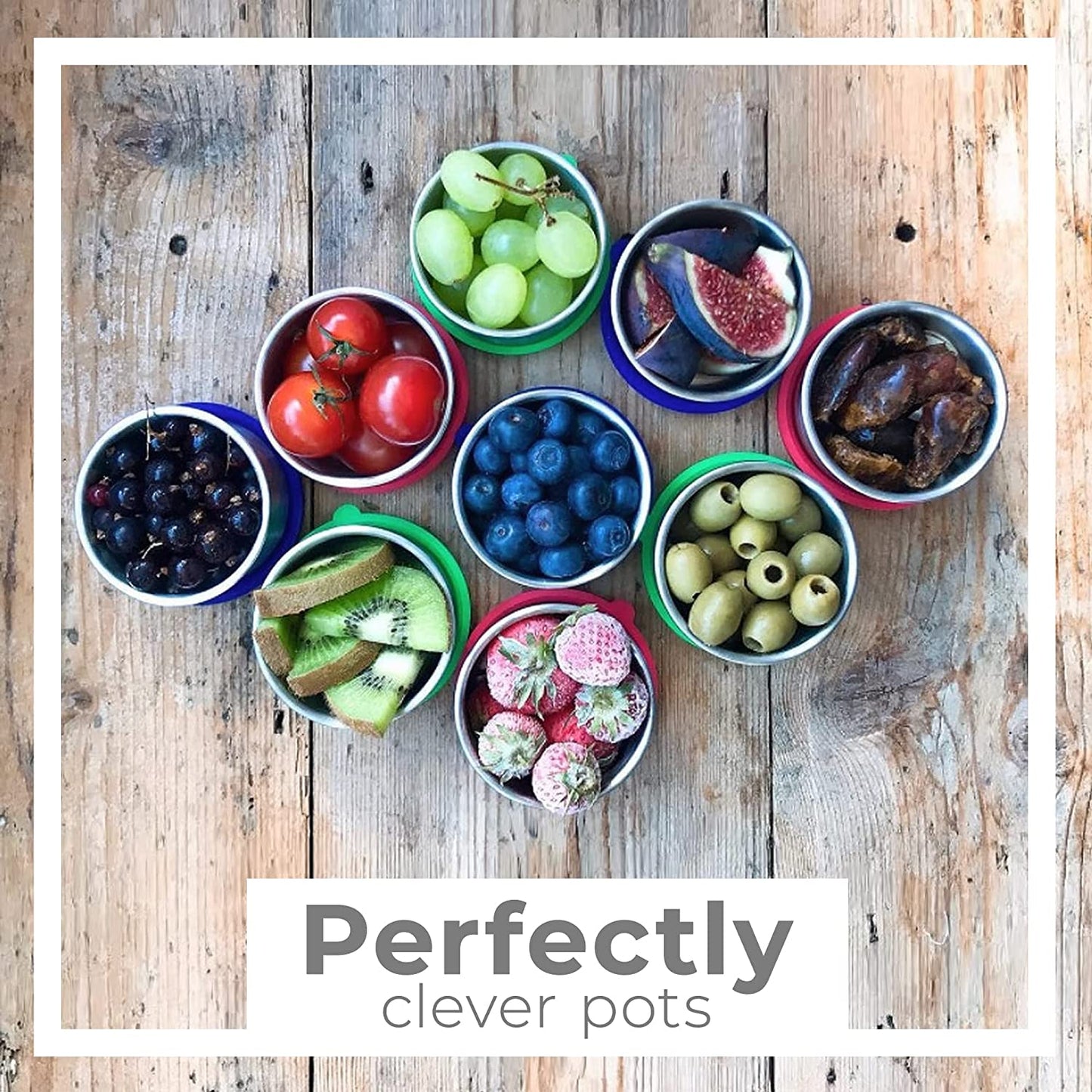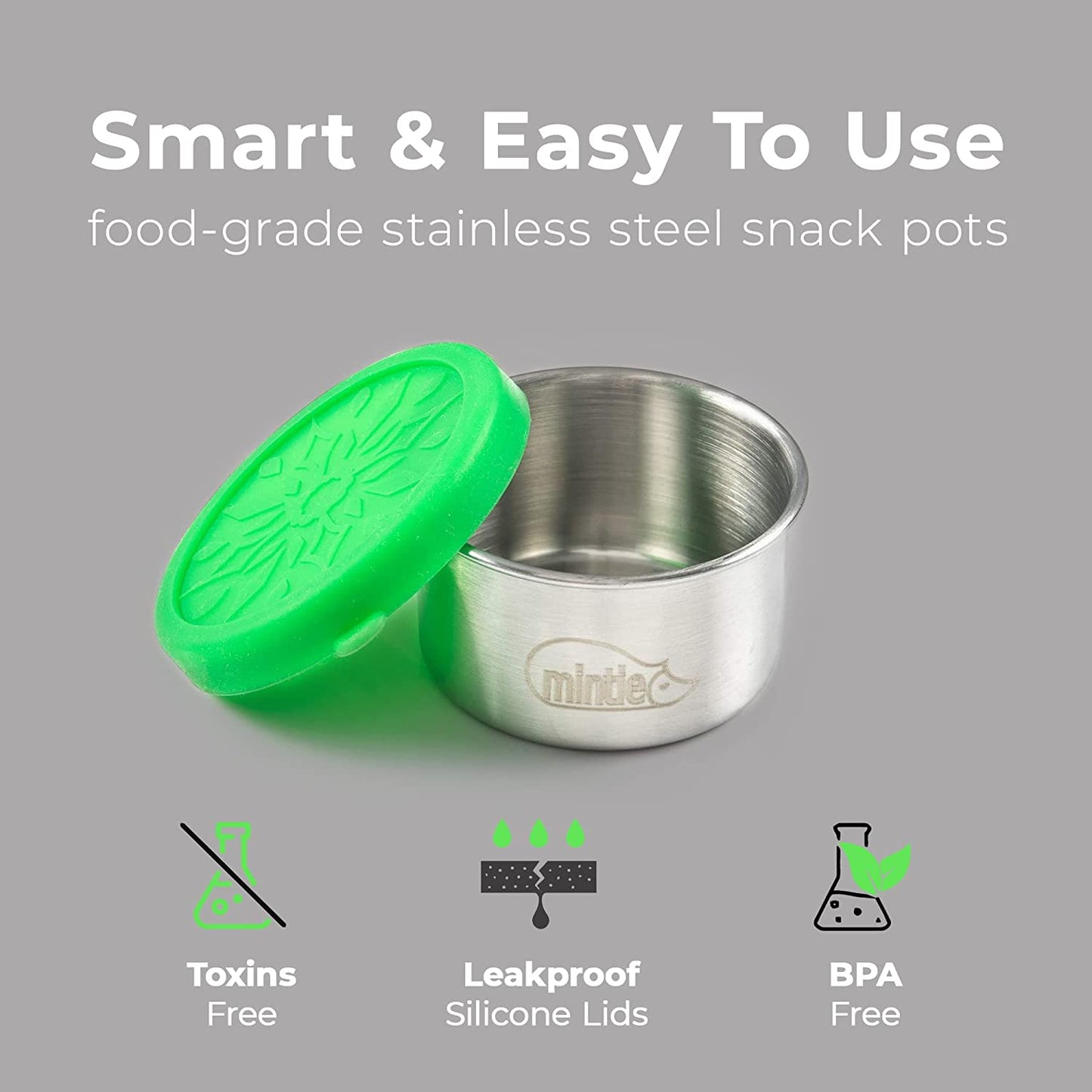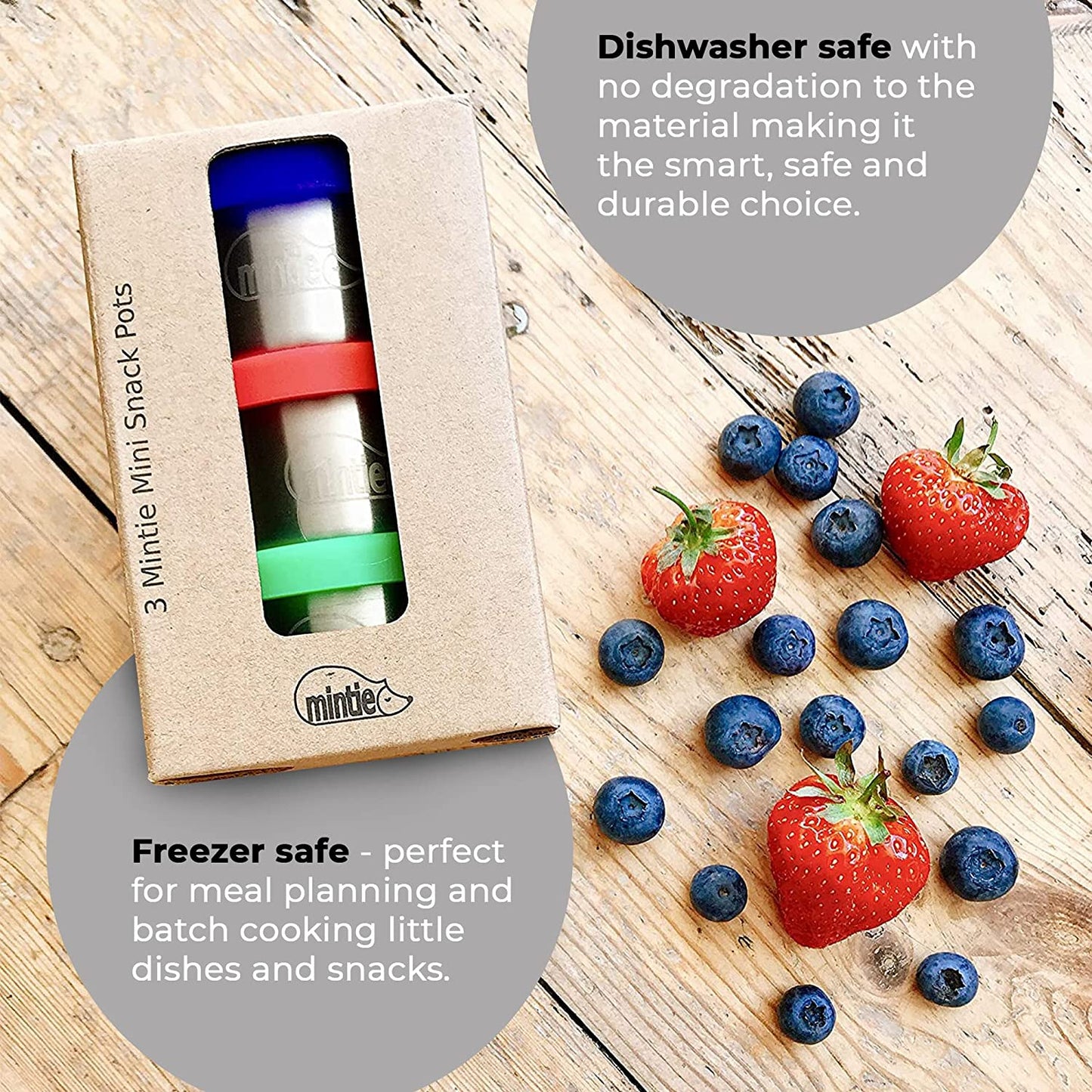 I recently purchased from Mintie …… and like everything I purchase, I put a lot of time into research/reviews and ALWAYS want a great investment. Wow wow wow - this is what I got for sure - OUTSTANDING!!!!
I was impressed from the outset, having rung for some help and guidance, brilliant help and service Is exactly what I got! Things just got better from then …….. the speed of delivery was outstanding and the products are utterly amazing (and how beautifully they were all Packaged ! It was a treat in itself opening everything ! ). I wish I'd took piccies but I was tooooooo excited .
I bought the MIDI 1.2l lunch box sets, the small 350ml
Stainless steel water bottles, extra lunch box dividers, the MIDI snack pots and some MINI snack pots ! Everything I need for healthy eating and packing up for long days out and about, days at work, camping and even trekking ! They are outstanding buys - HIGHLY RECOMMENDED!!!!
Superb quality, great prices and an investment worth making - These will last you forever and ever !
I love MINITE …. PS the 350ml Bottles are ace for a Tipple At The Top when trekking. Every time we tech a summit , we enjoy a swig of vino from ours ! Well….. we are bagging off the Wainwright Walks …. We deserve it!
Keep up the great work Mintie !!!! And thank you soooo muchly
! Xx
I love the quality of Mintie lunch boxes, and their service is just as quality. They arrived quickly and well packaged, a great small business to support.
I needed to contact customer service due to an error on my part and the response time from Dan was prompt and efficient. I cannot recommend these products enough.
Very good price, quick delivery and the lunchbox is just lovely
loved the design and such a great quality!! they dont soill and the lids are very easy to close .cute little hedgehog as well.