350 Stainless Steel Water Bottle 350ml
Regular price

Sale price

£12.00

Unit price

per
350ml Stainless Steel Water Bottle 
Features
The Mintie 350 is the perfect safe and environmentally sound drinks bottle with the capacity to carry 350ml (12 fl oz) of liquid
Best Water Bottle for Kids
Easy to Operate Screw Cap
Wide Mouth - Fits Ice Cubes & Smoothies
Healthy - Durable, and Odour-Free

Safe - Made from 304 Food Grade Stainless Steel
Sustainable

 

- Bamboo and Stainless Steel Lid
BPA, Phthalate and Plastic Free
Dishwasher safe (the lid is to be hand-washed)
Beautiful - a sleek but simple design with an laser etched Mintie logo
Can be personalised (Select option above)
Alternative Sports Caps available

here
Details
The Mintie 350 reduces the need for disposable plastic bottles and is the perfect eco-cool choice for all your hydration needs.
Strong, lightweight and built to last the Mintie 350 is made with the highest quality 304 food-grade stainless steel. With its sleek but timeless design this water bottle is essential for all your drinks on the go and at home. Whether in the office, at school or on a hike the Mintie 350 is your ideal companion.
The Mintie 350 has been specifically designed to fit in the Mintie Duo Stainless Steel Lunchbox Set. Making it an excellent companion to your lunchbox. The smaller size also means a more proportioned water amount for younger children or for when you are taking shorter trips.
The bottle has a polished finish with no extra paints or materials to chip or peel. Making it even more environmentally sound. The Mintie 350 has a screw-on lid and a stainless steel handle for ease of carrying and opening. The bottle is made from a single layer of stainless steel, making it very lightweight (therefore not insulated) and ideal for children, when backpacking or travelling to work. 
If you prefer a Sport Cap with a plastic lid that allows you to use the bottle one-handed, alternative caps are available here
Toxin, BPA and Phthalate FREE - the Mintie 350 is completely plastic free, there is a BPA free silicone seal in the lid to ensure further water tightness. 
We use eco conscious packaging - all Mintie products arrive in a 100% recyclable cardboard carton, wrapped in recyclable paper for protection. No plastic packaging used.
The Mintie 350 is good for you and good for your environment, making it the all round smart drinks bottle choice.
Personalisation
If you would like the bottle personalised, please click the "Personalise" button above and fill in your details. You can find more info about personalisation here

Care
Mintie lunchboxes, pots and bottles come with a 10 year guarantee. If you look after your bottle, it will last you for many, many years to come. If the day comes you no longer need your Mintie it can be fully recycled. The bottle is dishwasher safe but you are better to hand wash the lid as it can water trapped inside it. The bottle and lid are metal so do not put them in the microwave. 
It is not suitable for hot liquids as the body of the bottle will conduct the heat, making the surface hot. If you would like the contents to stay cold, place the bottle plus contents in the fridge. The chilled metal bottle will help to keep the contents cool.
We use eco conscious packaging - all Mintie products arrive in a 100% recyclable cardboard carton, wrapped in recyclable paper for protection. No plastic packaging used.
Specification
Measures 15cm High x 7.2cm Diameter
Capacity: 350ml
Weight: 160g
How much is 350ml? It is a bit bigger than a standard drinks can  or 12 fl.oz, which is 0.6pints

Share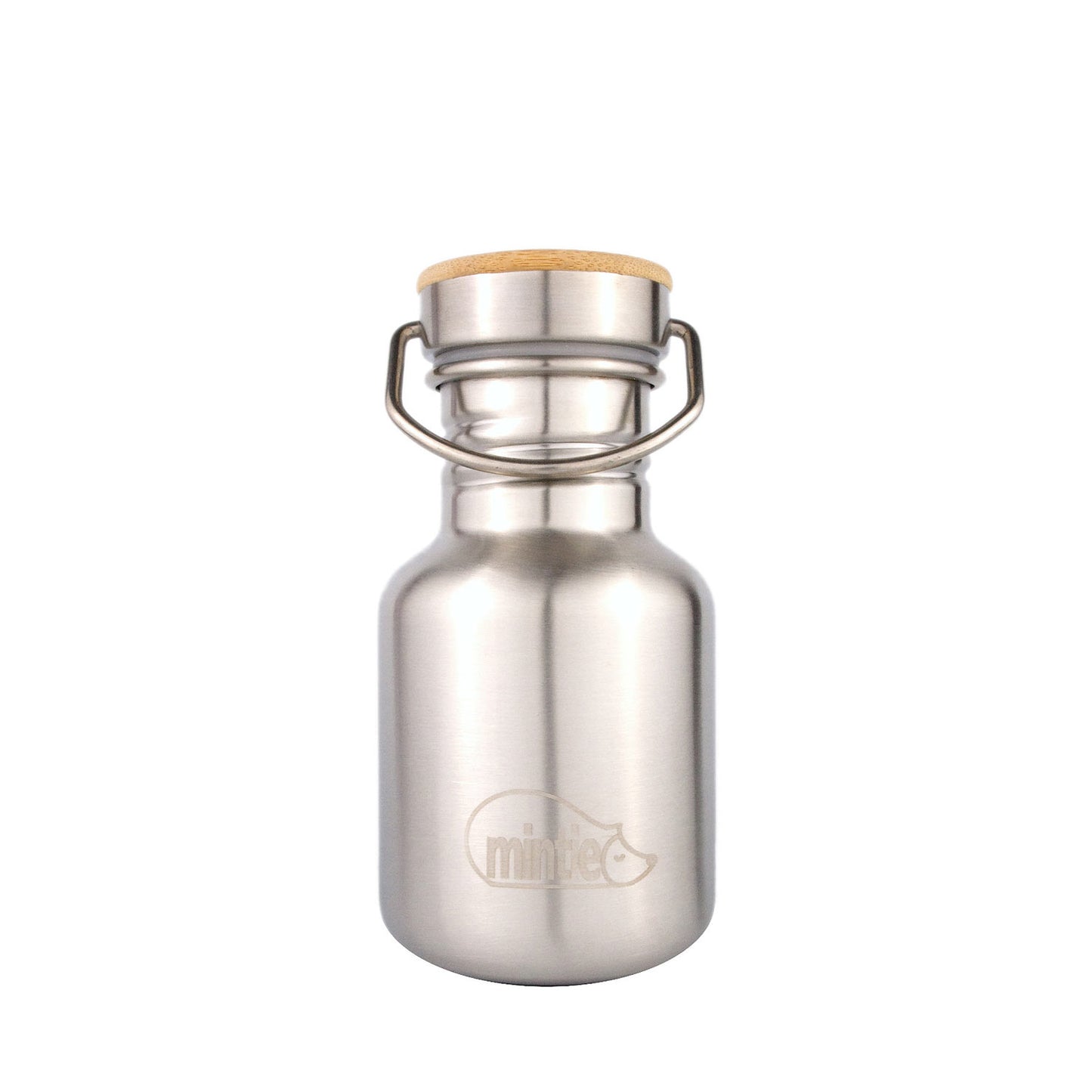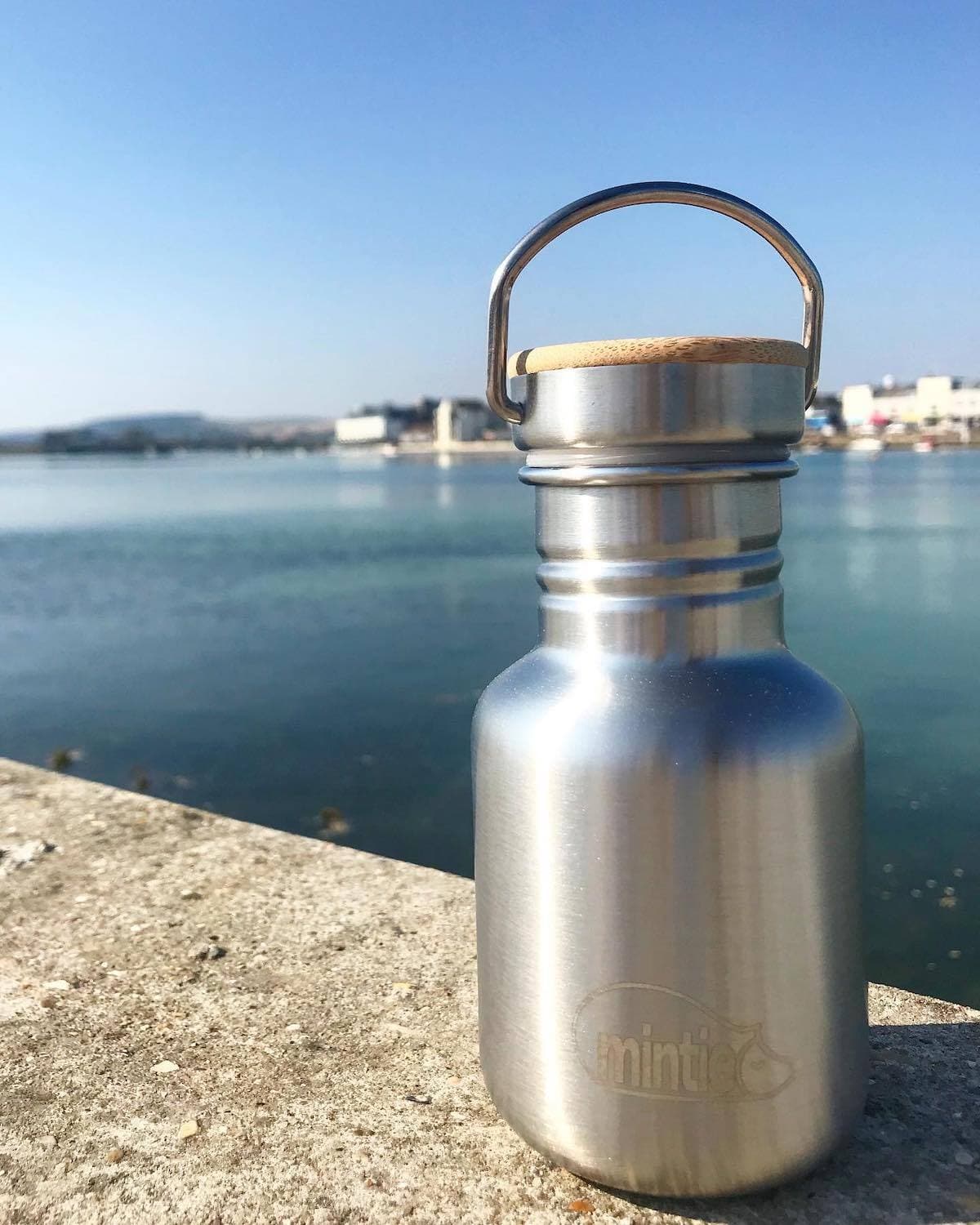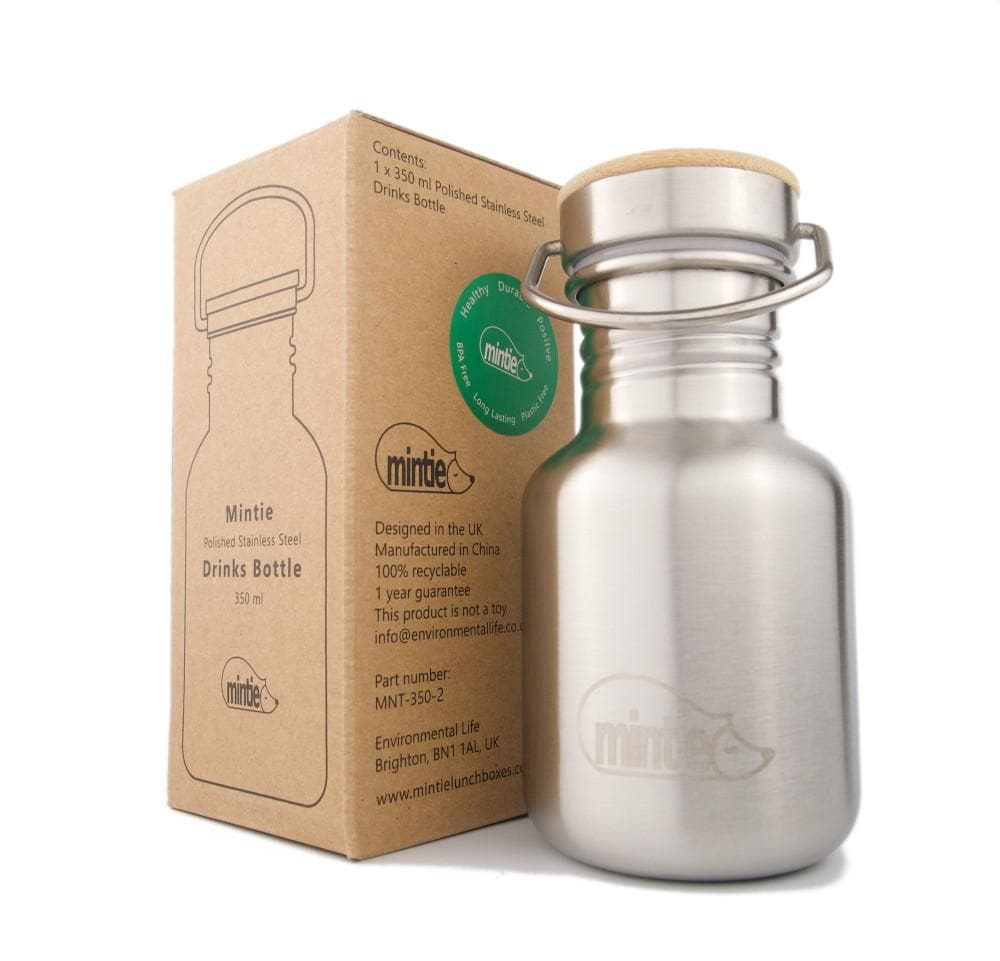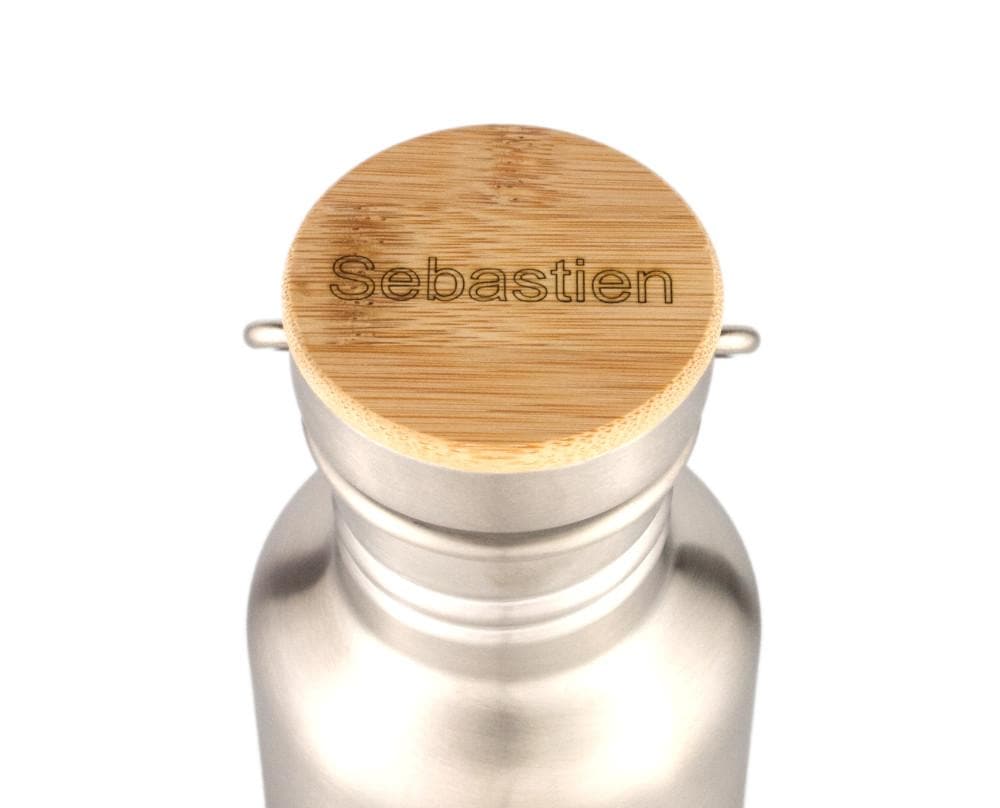 350 Stainless Steel Water Bottle 350ml
I really enjoy my stainless steel water bottle that I received about a week ago. I would recommend their products to anyone who is looking for similar products without hesitation, good job Mintie!
I recently purchased from Mintie …… and like everything I purchase, I put a lot of time into research/reviews and ALWAYS want a great investment. Wow wow wow - this is what I got for sure - OUTSTANDING!!!!
I was impressed from the outset, having rung for some help and guidance, brilliant help and service Is exactly what I got! Things just got better from then …….. the speed of delivery was outstanding and the products are utterly amazing (and how beautifully they were all Packaged ! It was a treat in itself opening everything ! ). I wish I'd took piccies but I was tooooooo excited .
I bought the MIDI 1.2l lunch box sets, the small 350ml
Stainless steel water bottles, extra lunch box dividers, the MIDI snack pots and some MINI snack pots ! Everything I need for healthy eating and packing up for long days out and about, days at work, camping and even trekking ! They are outstanding buys - HIGHLY RECOMMENDED!!!!
Superb quality, great prices and an investment worth making - These will last you forever and ever !
I love MINITE …. PS the 350ml Bottles are ace for a Tipple At The Top when trekking. Every time we tech a summit , we enjoy a swig of vino from ours ! Well….. we are bagging off the Wainwright Walks …. We deserve it!
Keep up the great work Mintie !!!! And thank you soooo muchly
! Xx
What a perfect object: design, weight and the wooden lid is a gentle, warm touch to remind us about environment. We are a family of hedgehogs, so Mintie means a lot to us! I purchased 2 small 330ml for myself and one of my cubs, followed by a 500ml for my older cub. Original and inviting to drink and refill. Ultimately, the thanking note left by the sellers, makes you feel you are purchasing in the old-fashioned village shop. Love it all!!
Swift service , product delivered very quickly